The house has three bedrooms, a living room, a kitchen, a large terrace… It is very open to the outside, which allows a direct contact with nature.
Punta Preciosa's exceptional situation makes it possible to practise many guided or non-guided activities on the spot or in the immediate vicinity. The house is the ideal place to relax and enjoy the beauty of nature. The terraces, the garden, the paths, the beach allow you to observe nature, fauna and flora. We have also conceived a set of unique and authentic activities, accompanied (or not) around or from the house. Do not hesitate to contact us.
A unique location between beach, river, mangrove, sea, jungle and lagoon
The most intense biologically place on earth
your digital welcome book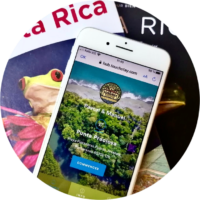 After your reservation, you will receive your welcome book that you will be able to download as an application on your phone. It contains all the information you need to prepare your stay and get to the house. Once there, you will have a practical guide, always available, of the house and its surroundings with maps, geolocations, itineraries.
We try to reduce our impact on the environment as much as possible. We participate in the promotion of local heritage and culture. We support the development of the local economy. We have two programs of reforestation and protection of sea turtles.