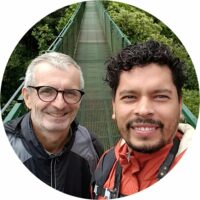 Manuel was born in the heart of the Osa Peninsula in the family finca of Piro. Miguel, his father, revealed to him all the secrets of the rainforest. It was his playground. 
One day, an American foundation bought a large part of the property. Scientists came to live and work near the family home. With his knowledge, he was their guide… The scientists also taught him a lot about the natural riches of his native land. He then became the manager of the foundation's turtle protection program.
Very young, he became interested in wildlife photography. He became the foundation's photographer and presented his work in personal exhibitions in the United States.
In Punta Preciosa, Manuel initiated a sea turtle protection program on the Platanares / Preciosa beach. Now, the program has expanded its area of competence (www.tortugaspreciosas.org)
After a passionate and exciting but stressful professional career in France (real estate, communication, politics…), Pascal wanted to change his life.
He chose the Osa Peninsula in Costa Rica for its exceptional natural wealth, the beauty of its landscapes, its people and the policy of sustainable tourism development. After several months of research, he discovered this magical place. The one he had imagined in his dreams.
Manuel and Pascal first met through their passion for nature and this region. They got married and now want to share their little slice of paradise and their knowledge of this incredible region with you.
Suivez ou contacter Manuel
Suivez ou contacter Pascal
"We invite you to share our little corner of paradise and our passion for Osa. Our goal is to offer you a unique experience in an exceptional natural setting".
We would like to share our little piece of paradise with you. We welcome you to Punta Preciosa as friends. We like meeting people, exchanging ideas, discussing… We favour simplicity and conviviality.
Our greatest pleasure is to exchange our experiences and our knowledge of the region. You can discover our tips for discovering the Osa Peninsula on our website 
We can organize for you activities on the site or nearby. We can accompany you and reveal the secrets of the peninsula according to your interests and wishes. Discover our selection of activities here. We can also be very discreet and let you enjoy our little corner of paradise. 
Our goal is to offer you a unique experience in an exceptional natural setting.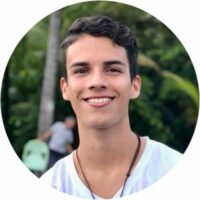 Elfer is the keeper of the house. He lives on site in a small apartment at the back of the house. He's very discreet, but available when needed. He's Manuel's little brother. Like Manuel, he's passionate about nature on the Osa Peninsula.